Bruxism is the clenching or grinding of teeth, which occurs primarily while you are sleeping or under significant stress. The symptoms of bruxism can include:
A sore, tired jaw (especially in the morning),
Difficulty opening and closing your mouth,
Sensitive teeth,
Earaches or pain in your jaw joint,
Flattened or worn-down teeth,
V-shaped patterns at the gum line of a tooth,
Pitting of the biting surface of a tooth, and
Broken or fractured teeth.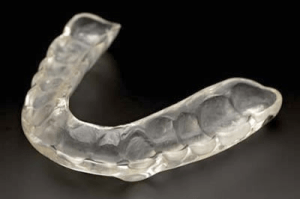 One of the most common and effective ways to stop the damage caused by grinding and clenching is the use of an occlusal nightguard. A nightguard is a plastic device that fits over your teeth and is worn at night or during periods of known clenching and grinding to protect them from the damage caused by grinding. This occlusal guard allows the teeth to slide freely from side to side and reduces overall bite pressure, resulting in significantly less damage to the teeth, and has been shown to reduce the need for future dental treatments.  If necessary, Dr. Victor will discuss with you the pros and cons of an occlusal nightguard.