Why Ortho at Springfield Smiles?
Everybody loves a great smile!!! And we love helping people have a beautiful and healthy smile! Your smile is a small feature that makes a huge statement. At Springfield Smiles, we want to help make sure that your smile is making the right statement about you!
But in addition to helping you get that perfect smile, we take it one step further too. We want you to have a healthy smile. Did you know that there are often significant health benefits to correctly developing your smile? Most people (including health care professionals) don't understand the link between your smile and systemic issues like ADHD, sleep apnea, migraines, TMJ , heart attacks, and diabetes. Being a former Systems Engineer, Dr. Victor appreciates how finely tuned our bodies are and the impact that an underdeveloped or incorrectly developed smile has on the rest of the body.
Some of the biggest health benefits from properly developing your smile are associated with your airway and jaw joints.
In children, jaw-related issues can not only cause crowding of teeth, but can also significantly impact ability to breathe properly.  This can lead to:
Lack of good quality sleep
ADHD symptoms
Reduced growth
Inability to pay attention in school
Poor grades
Short temper
Poor socialization skills
Allergies
Acid reflux
Deviated septum
Under performance in sports
Underdeveloped facial features
Crowding of teeth
Underdevelopment of the lower jaw
In addition to these issues, adults with poorly developed jaws (or those who had previous or relapsed orthodontics that didn't address jaw structure or develop a balanced neuromuscular bite position) will have a higher tendency to experience problems associated with:
Sleep apnea
TMJ dysfunction
Migraines & headaches
Periodontitis
Grinding of teeth
Loss of teeth
Snoring
Obviously, each of these can have major systemic health effects. If left untreated, TMJ  can become debilitating and sleep apnea  can even result in death. Both sleep apnea and periodontitis significantly increase the risk of heart attacks, strokes, and diabetes, among other systemic consequences.
At Dr. Victor's Springfield Smiles Family Dentistry and TMJ & Sleep Center, we take your healthy smile seriously. Dr. Victor is specially trained in neuromuscular dental techniques and airway development. Our team not only uses these techniques to treat TMJ and airway issues like sleep apnea, but we also use it in developing our orthodontic treatment plans so as to help avoid these issues in the first place. Now that's something you can smile about!
Other things can also impact airway as well, such as tonsils and adenoids, so you want an airway specialist like Dr. Victor to evaluate your unique situation, diagnose, treat, and refer as needed. Call us today at 937-390-3077 or email to set up your consultation with Dr. Victor.
At Springfield Smiles, Dr. Victor uses a variety of orthodontic treatment options, from traditional expanders and braces to Invisalign. Factors such as treatment needs and personal preference come in to play when selecting your orthodontic treatment. Let us help you figure out the best treatment option for you!
No longer is there a need to see those metal brackets! There's never been a better time to straighten your teeth with the most advanced clear aligner in the world.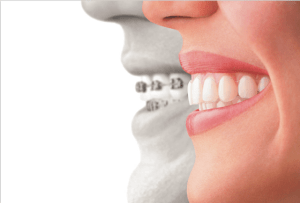 Faster treatment: With weekly aligner changes, you're on your way to the smile you want even faster. Depending on your response to treatment, particularly in mature adults, we may consider longer periods between aligner changes.
Proven results: SmartTrack® material and SmartForce® features are clinically proven to improve control of tooth movement with Invisalign clear aligners
Better fit: Aligners made from SmartTrack material are comfortable, fit well, and are easy to put on and take off.
Effective: Invisalign clear aligners can treat a wide range of teeth-straightening conditions, including crossbites, crowding, open bites, gapped teeth, overbites, and underbites.
Virtually invisible: Most people won't even know you're going through treatment, because Invisalign aligners are virtually invisible!
Comfortable: Invisalign clear aligner trays are not only smooth and comfortable to wear, but they're also removable. That means you can continue doing all the things you normally would, from brushing and flossing to eating whatever you like.
Convenient: Invisalign treatment is ideal for your busy schedule, since you only need to visit our office every six weeks.
The Invisalign Treatment Process
Your First Consultation
At your initial consultation, we will discuss your orthodontic needs and evaluate whether Invisalign treatment is right for you.
Your Custom Treatment Plan
We will use an iTero® digital scanning system to create fast, precise 3D digital images of your teeth. Then we will map out a precise treatment plan, including the exact movements of your teeth and how long your treatment will be. You'll even get to see how your teeth will move and preview your new smile.
Your Invisalign Clear Aligners
Your custom-made aligners will be made of Invisalign's proprietary SmartTrack® material. They're virtually invisible, so most people won't even notice you're wearing them during your teeth straightening.
Wear your Invisalign clear aligners 20 to 22 hours a day for the best results, and take them out only to eat, brush, and floss.
Your Progress
As you wear each set of aligners, your teeth will gently and gradually shift into place. We may recommend that you begin wearing a new set of aligners every week or two and schedule checkups every six weeks or so.
Taking Care of Your New Smile
When your treatment is complete, ask us about a Vivera® retainer. Vivera retainers are custom-made using the same state-of-the-art technology as Invisalign clear aligners.
To learn more about the Invisalign system and all your orthodontic treatment options, call 937-390-3077 or email to schedule an appointment at our office. We look forward to meeting you and helping you achieve a smile that's made to move!
Invisalign and the Invisalign logo, among others, are trademarks of Align Technology, Inc., and are registered in the U.S. and other countries.