The COVID-19 Crisis has significantly impacted all of us, and it has changed the way we live and work.  While many things have changed at our Springfield Smiles office, one thing has remained the same: our commitment to your safety and our team's safety.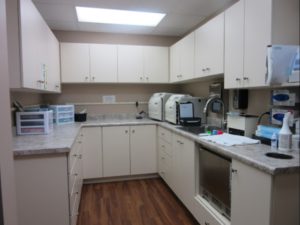 Infection control has always been a top priority for our practice and you may have seen this during your visits to our office. Our infection control processes are made so that when you receive care, it's both safe and comfortable.  Even before the COVID-19 Crisis, we utilized a state-of-the-art disinfection and sterilization center, implemented rigorous infection control procedures, sterilized water lines, and regularly cleaned common areas among other things.  We are proud of our sterilization center and infection control procedures, and would love to show them to you –  just ask for a tour!
Our office follows infection control recommendations made by the American Dental Association (ADA), the U.S. Centers for Disease Control and Prevention (CDC) and the Occupational Safety and Health Administration (OSHA). We follow the activities of these agencies so that we are up-to-date on any new rulings or guidance that may be issued. We do this to make sure that our infection control procedures are current and adhere to each agencies' recommendations.
You may see some changes when it is time for your next appointment. We made these changes to help protect our patients and staff. For example:
Our office will communicate with you beforehand to ask some screening questions (see our COVID-19 patient screening form). Any positive answers to the screening form will be evaluated for possible delay of treatment. 
If at anytime you are concerned about possible symptoms you may be displaying, or have recently been potentially exposed to the COVID-19 virus, you are encouraged to contact your family doctor for further evaluation and you may cancel your dental appointment without penalty or repercussion. 
Upon arrival at our office, you are asked to stay in your car and call our office at 937-390-3077 to announce your arrival.  You will then be asked the same COVID-19 screening questions again, and your temperature will be taken.
While at our Springfield Smiles office, face masks must be worn at all times except during treatment.  We kindly ask that you bring and wear your own.  However, it you do not have a mask, you will be provided a cloth face mask to wear while at the office.
We have hand sanitizer that we will ask you to use when you enter the office. You will also find some in the reception area and other places in the office for you to use as needed.
Our waiting room will no longer offer magazines, children's toys and so forth, since those items are difficult to clean and disinfect.
Appointments will be managed to allow for social distancing between patients. We will also be offering early morning appointments for the elderly and high-risk patients preferentially, so that might mean that you're offered fewer options for scheduling your appointment.
We will do our best to allow greater time between patients to reduce waiting times for you, as well as to reduce the number of patients in the reception area at any one time.
Some additional changes at our office that you may not notice, but that are designed to help minimize viral spread, include:
Proactively screening all employees twice a day for possible signs and symptoms
Increased disinfection procedures of common areas, including door handles and bathrooms
Two new doorways to isolate the operatory environment
UV-C germicidal lights and MERV-13 germicidal filters installed in the HVAC air handlers
Increased PPE requirements
We look forward to seeing you again and are happy to answer any questions you may have about the steps we take to keep you, and every patient, safe in our practice. To make an appointment, please call 937-390-3077or email today.