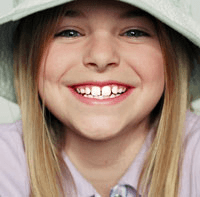 Children are a wonderful blessing!  That's why we've put together some great resources for you and your child.  Follow the links to find out more about each subject:
Your child's first dental exam
Sealants
Braces
Taking Care of Your Baby's and Children's teeth
Baby Bottle Caries
Pulpotomy (Baby root canals)
Thumb Sucking
Athletic Mouthguards
Fluoride
And be sure to visit the American Dental Association's Children's interactive site for an entertaining and educational web experience where participants run experiments, make a tooth timeline, see how much a dentist visit has changed, create original posters, earn certificates and more.