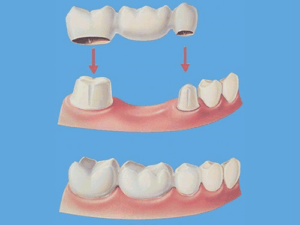 Bridges are a special series of crowns joined together in order to span the space associated with a missing tooth.  An artificial tooth (called a pontic) replaces the lost natural tooth, and restores its function. This pontic is attached to crowns on either side of it, which serve as retainers to support the fixed bridge.  The fixed bridge is permanently cemented into place, and therefore does not come loose.
Advantages
Reasons to consider a bridge include:
Similar look, feel, and function to natural teeth
Stops the movement of teeth adjacent to the area associated with the missing tooth
Permanently cemented into place, so it does not come loose with chewing
No need to remove it from your mouth in order to clean
Disadvantages
The disadvantages of fixed bridges include:
More expensive than removable partial dentures
Requires significant tooth structure to be removed from the adjacent teeth
Harder to clean around than natural teeth (requires a special proxy brush)
Options to Consider
Other options to consider for the restoration of missing teeth include implants and removable partial dentures. Talk to Dr. Victor to see if a fixed bridge is a good option for you.