At Dr. Victor's Springfield Smiles, we know how important children are.  Dr. Victor has four wonderful children of his own!  That's why we take the extra time and effort to make your child comfortable in our office.  We have an area for kids to play in the reception area, and encourage them to come back and observe their parent's cleanings.
Your child's first dental exam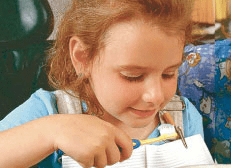 The ADA recommends regular dental check-ups, including a visit to the dentist within six months of the eruption of the first tooth, and no later than the child's first birthday. Dr. Victor endorses this policy, and as the child grows, he encourages you to bring your child with you to your exams in order for them to get used to the Dentist's office.  Dr. Victor offers free exams for children under 5, or until a treatment need is identified, whichever is sooner.
Preventive care such as cleanings and fluoride treatments provide your child with "smile" insurance. Routine dental exams uncover problems that can be treated in the early stages, when damage is minimal and restorations may be small. Our low dose digital dental radiographs (X-rays) are taken only when necessary, in order to see how the teeth are developing and to spot hidden decay.
To find out more about these topics in Children's Dentistry, follow the links:
Sealants
Braces 
Taking Care of Your Baby's and Children's teeth 
Baby Bottle Carries 
Pulpotomy (Baby root canals)
Thumb Sucking
Athletic Mouthguards
Fluoride